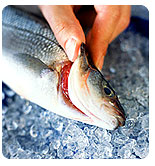 The well equipped plants offers all types of freezing facilities are situated at Kochi and Veraval. The facilities are upgraded very recently to enable to excel in every aspect of pre-processing and production.

The pre-processing is under hygienic and scientifically controlled conditions. The well equipped facilities along with a good laboratory, high degree of cleanliness, intensive washing and scrutinized cleaning and surveillance by supervisors ensures high quality processing. The grading and packing is done with technical supervision and random samples are examined to ascertain grading and packing.

Quality control measures are adhered to at every stage of processing. Random samples are tested in each batch of production.

Daily production capacity is 200 MT per day. The flake ice production is matching with the production capacity in our EU approved plants.